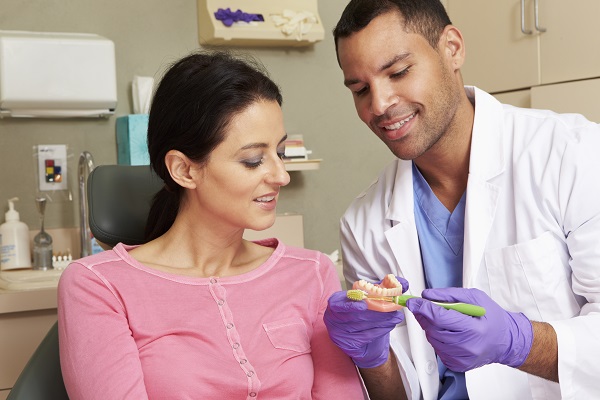 All-on-4® is one of the most innovative teeth replacement options available for those who have lost several or all of their natural teeth. All-on-4 is a type of implant-supported denture that uses only four implants to replace a full arch of lost teeth. For many patients, especially those who have experienced bone atrophy and cannot get traditional implants, this option is the most effective and affordable solution. Continue reading to discover the advantages of this dental restoration option.
Advantages of All-on-4 implants
All-on-4 implants have been available for over a decade, but they did not become common until recently. Instead of replacing each lost tooth individually, the All-on-4 dental implant system is a quick way to replace the complete set of teeth. Some of the advantages of choosing this option include:
Quick procedure
All-on-4 limits the number of appointments needed for the dental implant procedure to just one. Since the entire implant connects to one framework, the dentist will not need to make slots for fitting individual implants. The All-on-4 process can be completed within a few hours since the dentist already has an overview of how to place the implants to support the entire arch of teeth.
Affordable dental restoration
Replacing missing teeth has always been relatively expensive, regardless of the option. However, with All-on-4, the cost of replacing the entire teeth row reduces significantly. Instead of paying for single tooth replacements, All-on-4 allows patients to pay for the entire set of dental implants at once and at a less expensive rate. Essentially, the payment would be for the four implants and the tooth prosthesis.
No need for bone grafts
Unlike traditional implant surgery, patients may not need a bone graft when they need to get All-on-4 dental implants. A bone graft is usually required when the patient's jawbone is not enough or too weak to support a dental implant. However, with All-on-4 implants, a bone graft is not required because the four implants are placed at different points along the jaw where the bone is denser, meaning they are not limited to a particular location.
Quick results
The major benefit of All-on-4 implants over many conventional tooth replacement methods is how easily patients can get a complete set of teeth in one procedure. Whereas other methods might require more time to complete, this system makes it possible to finish it all in one go. This makes it more effective and preferable over traditional dental implants, which would usually take about six months or more to complete.
Easy maintenance
Unlike traditional dentures, these implant-supported dentures do not need to be removed for cleaning. It is a lot easier and simpler to maintain the All-on-4 system. The implants are stable to preserve the jaw and encourage good oral hygiene. Patients can brush and floss dental restorations like normal teeth. Regular checkups and cleanings are still important.
In conclusion
If you have suffered significant tooth loss and are considering tooth replacement options, talk to your dentist about getting All-on-4 implants. They will guide you through the process and help you make the right decision.
Request an appointment here: https://drcalldental.com or call Dr. Call Dental Center at (706) 425-6240 for an appointment in our Dalton office.
Check out what others are saying about our dental services on Yelp: All-on-4 Dental Implants in Dalton, GA.
---
Related Posts
September 13, 2021
Considering All-on-4®? This hybrid tooth replacement option is one that can successfully replace an entire arch of missing or damaged teeth. The results are so natural-looking that more and more individuals are …