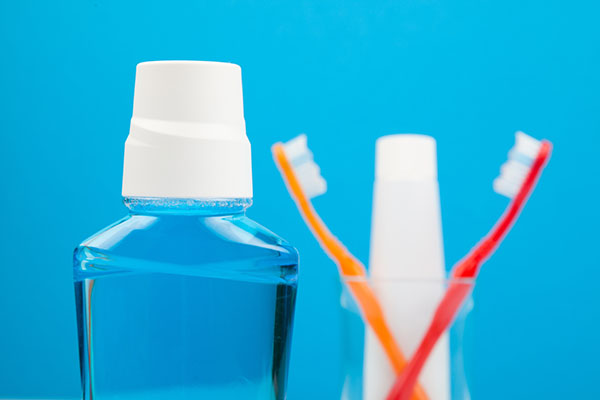 Thinking that brushing your teeth is not necessary if you use mouthwash? While using mouthwash is a great way to get rid of any harmful bacteria lingering in the mouth, the only way for you to remove any plaque or tartar buildup on your teeth is to brush them. A gentle toothbrushing to every single tooth at least twice a day will remove any plaque or tartar that may be sticking to the teeth. If you only use mouthwash, the plaque and tartar will remain. If plaque and tartar are left on the teeth for too long, cavities will begin to start forming.
Five common questions about mouthwash and brushing teeth
Question #1 — Can mouthwash replace brushing?
Answer — No, mouthwash cannot replace brushing one's teeth with a soft-bristled toothbrush. Mouthwash should be used to help get rid of bad bacteria in the mouth and not for providing the teeth with the care they need for one's good oral health.
Question #2 — Can you use mouthwash to brush your teeth?
Answer — While using a mouthwash to brush one's teeth is possible, it does not contain the same cleaning properties as a toothpaste does, so will not clean the teeth as well.
Question #3 — Can you use mouthwash before brushing your teeth?
Answer — Yes, mouthwash can be used before brushing the teeth. It may even help expose any hidden food particles in the mouth.
Question #4 — Are you supposed to rinse after using mouthwash?
Answer — When using mouthwash after brushing the teeth, be sure not to rinse with water right away, as the mouthwash continues to work over the course of a few minutes.
Question #5 — Is it possible to use mouthwash too much?
Answer — Yes, it is possible to use too much mouthwash in a day. The recommended amount of mouthwash that should be used is about four to five teaspoons in a 24-hour period.
Have any more questions we can answer for you?
We can answer any questions you have about the importance of brushing your teeth. While it is good that you are choosing to use a mouthwash in order to kill any harmful bacteria lingering in your mouth, mouthwashes do not remove the plaque and tartar from the teeth. All it takes is to brush your teeth for two minutes in the morning and at night to remove any plaque or tartar buildup, a minimal amount of time for your good oral health. Be sure to contact us if you need us. We are here for you!
Call (706) 425-6240 today to reach Dr. Call Dental Center.
---
Related Posts
June 14, 2021
Good oral hygiene is critical for maintaining healthy gums and teeth. However, the effects of oral health go beyond teeth and gums. Studies have established a link between oral health and overall …
---