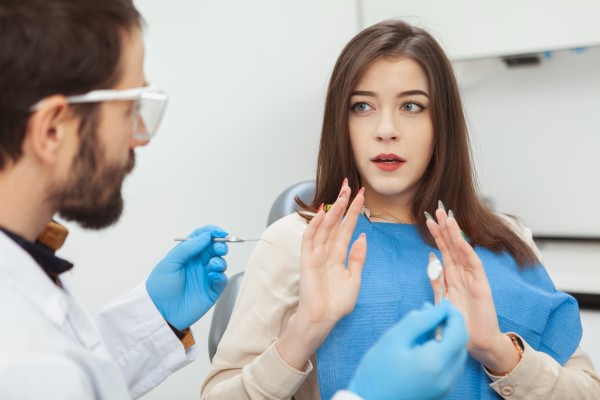 Seeing the dentist is an appointment that many people dread because of dental anxiety. The idea of being in the dentist's chair can be very scary for a lot of people. The sounds the equipment makes and the look of the tools in the dental tray can be very intimidating.
There is a combination of many reasons that make a trip to the dentist uncomfortable. Many patients feel very anxious because the dentist and hygienist are so close to them and inside their mouth for such a long time. Feeling vulnerable while having your teeth cleaned or having a procedure is another reason. Sometimes, the simplest procedure of a minor cavity filling can be reason enough for someone to cancel their appointment and put it off for another time.
Ways to ease anxiety at the dentist
There are a few things you can do to make your trip to the dentist less stressful. When you first schedule your appointment, make sure to ask exactly what you will be having done during the visit so you can read up and prepare yourself beforehand. Take earbuds and have some of your favorite calming music ready to go. Try to relax, close your eyes and drift into a different place while you have your dental procedure. Distracting yourself is a great way to forget where you are.
You can also schedule any dental appointments during a low-stress day. If you have a meeting scheduled at work or have a big to-do list, then maybe make the appointment for later on in the day when everything is done or maybe a day when you have nothing to do.
Don't put off your dental exams
Dental anxiety should not keep you from your routine checkups. These examinations are a vital part of your oral health. Your dentist can catch any issues with your teeth and gums during these visits, and you do not want to put them off.
During a routine exam, your dentist will do a thorough cleaning and check for early signs of:
Gum disease
Cavities
Infection
Oral cancer
Other health issues
You don't want to let your fears scare you away from getting treatment for any issues and possibly future tooth loss.
Talk to your dentist
If caught early, many oral health issues can be treated and reversed. If you suffer from any kind of fear of the dentist, you still need to find ways to cope with your appointments. You can always talk to your dentist and explain your fears. Your dentist knows your oral history and health and is there to answer your questions. They may be able to give you advice or, in some severe cases, discuss anxiety medication or even dental sedation.
Dental anxiety can be a horrible feeling, and your dentist wants you to feel as comfortable as possible while in the office. They are there to help you keep your smile bright and white for as long as possible.
Request an appointment here: https://drcalldental.com or call Dr. Call Dental Center at (706) 425-6240 for an appointment in our Dalton office.
Check out what others are saying about our dental services on Yelp: Dental Anxiety in Dalton, GA.
---
Related Posts
November 10, 2023
If you get nervous going to the dentist, you are not alone. Dental anxiety is a common problem that almost everyone struggles with from time to time. Most people experience it …