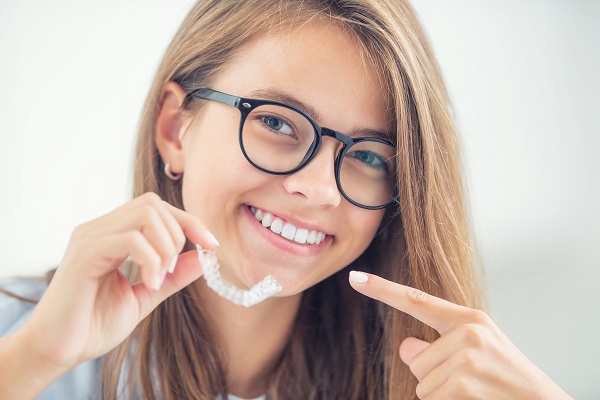 Even if you already had braces, you may find yourself considering Invisalign to straighten any teeth that have shifted. The good news is that even if you have already had braces, you can get Invisalign aligners. In fact, people who need tooth straightening a second time often choose Invisalign. After having metal braces, many people do not want to deal with braces again.
Why teeth shift
There are many reasons why a patient's teeth may have shifted. Speaking, chewing and using the facial muscles can all put pressure on the teeth. Over time, this can affect the positions of the teeth. Grinding the teeth during the sleep or during the day can also change the positions of the teeth.
Patients should make sure that they wear the retainer often enough after braces are gone. After braces, patients may have worn a retainer every day for the first several months. However, after that, patients should still wear retainers for several nights a week. In fact, some orthodontists recommend that patients wear retainers for the rest of their life.
Invisalign after braces
Like braces, Invisalign can treat nearly all types of teeth issues. This can range from simple to complicated issues. Invisalign offers a discreet method of straightening the teeth if they have shifted back. Because there are no wires or brackets with Invisalign, patients will not need to have as many emergency visits as with braces. Patients can easily eat foods that would be off-limits with braces.
During the treatment, patients will see the dental professional about every six to eight weeks. This will allow the patient to pick up the next set of aligners. Each set of aligners will be worn for about one to two weeks. For the ideal results, patients should commit to wearing the aligners for at least 22 hours a day. This will help to ensure that the next set of aligners will fit the teeth properly.
After Invisalign
It is important for patients to wear the retainer after the Invisalign treatment has ended. The retainer will look similar to the Invisalign aligners — a clear plastic tray. The orthodontist or dentist can tell the patient the right amount of time to wear the retainer. Invisalign offers Vivera retainers, which are 30% stronger than other retainers, according to Invisalign. These retainers are designed to last, even for patients who grind their teeth. The dentist will use the same digital scanning technology to create the Vivera retainers as the Invisalign aligners.
Visit a dentist today
If your teeth have shifted after having braces, you do not have to live with crooked teeth for life. Invisalign offers a discreet solution for straightening your teeth. Invisalign aligners are also easier to care for than braces. When you take out your aligners, you can easily brush and floss your teeth. This can help minimize the risk of cavities, gum disease and other oral problems during your treatment.
Request an appointment here: https://drcalldental.com or call Dr. Call Dental Center at (706) 425-6240 for an appointment in our Dalton office.
Check out what others are saying about our services on Yelp: Read our Yelp reviews.
---
Related Posts
August 8, 2022
Cavities are tiny holes that form on teeth due to decay. A dental filling is the standard way to address cavities. Silver amalgam fillings were the norm for decades, but composite …