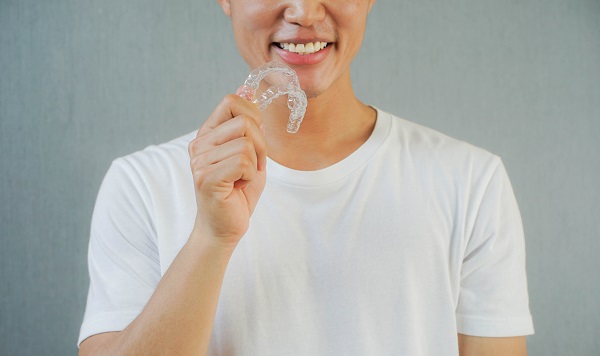 Invisalign® is popular because it offers a great way to achieve a straighter and more aligned smile. Straightening your teeth with Invisalign can help to improve your appearance. It can also improve your oral health. Read on to find out more about Invisalign treatment.
Invisalign treatment
Invisalign treatment involves wearing a series of aligners that are customized to fit teeth. They apply pressure in the right places to shift teeth into alignment gradually. Dental providers use Invisalign to treat many problems. This may include mild to moderate crowding, gaps, and crookedness. It is not uncommon for people's teeth to move back to their original position following previous orthodontic treatment. Fortunately, Invisalign clear aligners may help to address the problem.
Why choose Invisalign over traditional metal braces?
Invisalign comes with many advantages compared to traditional metal braces. Invisalign aligners are almost invisible when worn, which allows an individual to achieve a straight smile inconspicuously. Unlike braces, people can take Invisalign aligners out when eating or drinking. As a result, there are no restrictions on what the patient can eat during treatment. It also makes them a more hygienic option because food cannot get stuck in them. The convenience of removing Invisalign for social occasions or work is also a big plus for many people.
How long does the treatment take?
Treatment time varies depending on several factors. These include the complexity of the case and how often the aligners are worn. Many times, patients are required to wear Invisalign clear aligners for at least 20 hours a day. Dental professionals usually only recommend removing them when brushing, flossing, eating, and drinking. But it is important for people to remember to insert them back in the mouth.
Is Invisalign easy to use?
People can easily remove Invisalign aligners and put them back in. The aligners are also comfortable and durable. But taking proper care of Invisalign aligners is an essential part of treatment. Brushing the aligners with a soft toothbrush can aid in removing plaque.
It is crucial to rinse the aligners every time they are taken out of the mouth. This will help to prevent dry saliva and plaque from building up. Consistently brushing and flossing is also beneficial. They can help to prevent the buildup of bacteria and plaque under aligners.
Does Invisalign hurt?
Invisalign treatment helps to move the teeth gradually by applying a gentle, constant force. Some people experience some discomfort for a few days after wearing a new set of aligners. This is entirely normal, and most times, it is considered a sign that the treatment is working. The minor discomfort usually goes away within a few days. Removing Invisalign aligners because the appliances are uncomfortable is not recommended. The appliances only work when worn as prescribed.
Visit your dentist today
Invisalign aligners are popular because the appliances are removable and virtually invisible. And taking care of Invisalign clear aligners is easy. If you want to enhance your smile but want to avoid metal braces, talk to your general dentist about your options. Invisalign might be the ideal treatment option for you.
Are you considering Invisalign in the Dalton area? Get more information at https://drcalldental.com.
Check out what others are saying about our dental services on Yelp: Invisalign in Dalton, GA.
---
Related Posts
March 11, 2020
Invisalign is a newer orthodontic treatment. It allows you to have straight teeth without having to get metal braces. Another benefit of this treatment is that it is often more comfortable than traditional braces. However, …