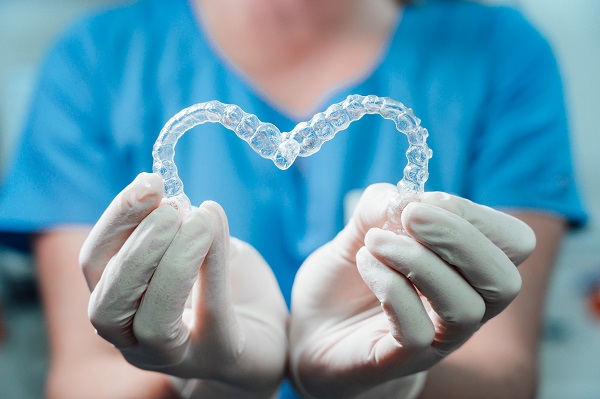 Considering straightening your teeth with the use of clear aligners? Modern-day dentistry has allowed for the evolution of alternatives to braces, with clear aligners being an increasingly popular choice. This teeth straightening option is one that is used to correct teeth that are protruding, crooked, or extremely crowded.
More and more general dentists are administering clear aligners to address dental imperfections due to the ease of the process and the ability to remain discreet while undergoing the actual treatment. However, because clear aligners are newer to dentistry, there are often some questions about what is actually involved in the entire process. Continue reading to find out what one could expect.
Understanding how clear aligners work
Below is a quick overview of clear aligners, including what they are and how they work. It can be helpful to review this information when preparing to undergo treatment or when considering the available options.
What are clear aligners?
Clear aligners are transparent plastic pieces that fit right over the top or bottom arch of teeth (or both). They are custom-created in a dental lab for each patient based on impressions. A special computer software is used to identify the patient's desired results, which is then used as a basis for the clear aligners. The predicted results will dictate the number of aligners in the entire series, which are printed at the start of the treatment process.
How does clear aligner treatment work?
Treatment with clear aligners is pretty simple. Patients will visit the general dentist every six to eight weeks so that progress can be observed and evaluated. Additionally, the aligners may be switched out for the next set in the series. In some cases, patients will be provided all of the clear aligners at the beginning of treatment, whereas others may have to visit the dentist for their next set each time. This depends on the practice and the number of clear aligners that are in the series.
Gradually, over the course of treatment, the teeth will start to shift into their proper position. With clear aligners, the teeth are forced to shift all at the same time, instead of individually as is the case with braces. Some say that this type of teeth straightening method produces quicker results.
Benefits of using clear aligners
Clear aligners are very beneficial in the sense that they are removable, comfortable, and easier to maintain. Unlike braces, clear aligners can be removed, which makes eating and oral hygiene a lot easier. Additionally, because they are made of plastic, they are easier on the soft tissues of the mouth than metal brackets and wires. Braces tend to induce discomfort and soreness, which requires patients to adjust accordingly.
It is important to know that even with clear aligners, there will still be soreness, which is the case with any orthodontic treatment. Because the teeth are physically shifting, it is expected to experience soreness and tenderness from time to time. This can be dealt with by taking an over-the-counter pain reliever for a day or so.
Other things to know about clear aligners
It is important to know that while clear aligners are a more flexible treatment option, they still require discipline and patience. Because they are removable, it can be tempting to take them out for long periods of time during social events or work; however, doing this will delay the treatment process and skew the results. Dentists advise patients to wear clear aligners for 22 hours a day to ensure maximum and timely results.
Additionally, like other teeth-straightening methods, clear aligners require patience. Results will not be seen overnight, which can be discouraging to some patients. Clear aligners take time to work and most shifts are hardly noticeable as they happen over the course of a few months.
Lastly, not everyone is a good candidate for clear aligners. While the treatment process is simple, it is only an option for those who have minor to moderate dental issues. Severe bite issues like over or underbites cannot typically be addressed with clear aligners.
Get started with clear aligners today
When looking for more information on clear aligners, it is best to consult directly with a general dentist. Detailed information can be provided, such as expectations and timelines. Because each patient is different, an evaluation will be necessary to start the process. Contact us today to find out more or to get scheduled for an appointment.
Request an appointment here: https://drcalldental.com or call Dr. Call Dental Center at (706) 425-6240 for an appointment in our Dalton office.
Check out what others are saying about our dental services on Yelp: Clear Aligners in Dalton, GA.
---
Related Posts
November 1, 2023
Invisalign® might be what you need if you are tired of always feeling self-conscious about your misaligned teeth but do not want to deal with metal braces. You are not alone; …