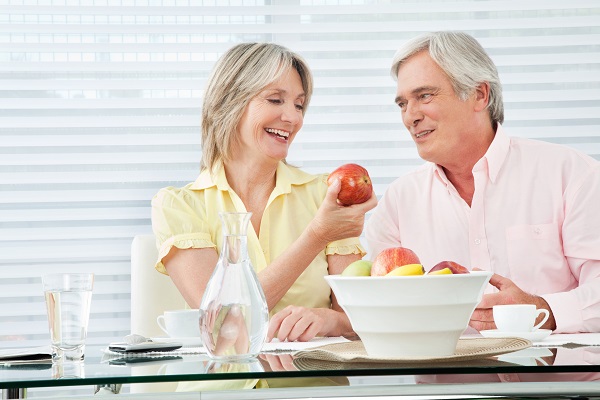 Implant supported dentures are removable appliances that can replace all your missing teeth. Implant dentures are supported by dental implants. These implants are surgically placed inside your jawbone and gums. Implant supported dentures are increasingly popular because they can improve a patient's oral health.
Implant supported dentures and oral health
There are numerous negative consequences of missing teeth. If a person is missing one or more teeth, there are several important reasons to replace them. Fortunately, implant supported dentures can be used to replace both lost natural teeth and some of the tooth roots. Here are some reasons implant supported dentures are recommended.
Missing teeth problems
Missing one or more teeth can affect a patient's entire mouth, bite, smile and jaw. Without teeth to hold space in the mouth and jaw, the cheeks and lips will start collapsing inward. This condition usually worsens as a person loses more teeth. This eventually affects the entire shape of the mouth and also a person's bite.
Failure to replace missing teeth can cause pain and it is a major cause of jawbone loss. Missing teeth contribute to bone loss in the face and jaw due to atrophy, which is the decrease and weakening of tissue. This leads to a change in the facial structure. Most times, this makes a person look older and the face to shrink in.
Missing teeth can also make it difficult for people to speak and chew. People rely on the teeth for gnashing and tearing food, so when teeth are missing, it can become hard to chew. The teeth also play a role in speech. Missing teeth, therefore, affect how a person speaks.
Advantages of implant supported dentures
Implant supported dentures are stable and comfortable because these dentures are secured to the jawbone. This allows a person to bite and chew more naturally. A patient will, in turn, be able to comfortably eat a wide variety of foods. The fact that they are also secure prevents them from rubbing on the gums and causing any pain. Implant dentures do not need any adhesive cream in order to remain in place, which makes them more convenient.
Implant supported dentures do not only look like natural teeth but they also function like them. In addition, since implant supported dentures replace some of the tooth roots, a patient's bone is better preserved. This is ideal because the bone that previously surrounded the tooth roots will not begin to deteriorate or resorb. The dental implants integrate with the jawbone, which helps to keep the bone not only healthy but also intact.
Visit your dentist today
Replacing your missing teeth with implant supported dentures will help improve your oral health. Implant supported dentures provide many advantages and can help you avoid the physical and psychological implications that may develop if you do not replace missing teeth. These dentures can preserve your bone and help you speak and eat more comfortably. You should also opt for them if you want to improve your smile and appearance. You should talk to your dentist to find out if you are a good candidate for implant supported dentures.
Are you considering getting implant supported dentures in the Dalton area? Get more information at https://drcalldental.com.
Check out what others are saying about our services on Yelp: Read our Yelp reviews.
---
Related Posts
April 15, 2023
After tooth decay or oral health concerns develop, prompt and effective treatment from the dentist is often required. A dental crown is one of the main treatment options dentists recommend to …