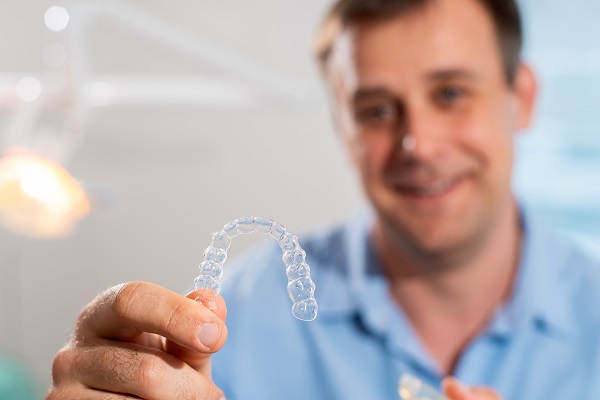 Invisalign® is a new development when it comes to orthodontics. This teeth aligner tool is designed to be invisible and unobtrusive. Invisalign is for people looking for an alternative to traditional dental braces. If you are looking for an aligner without metal and wires, Invisalign might be the right option for you.
The essentials of Invisalign
Compared to traditional dental braces, fewer people know about Invisalign. It was developed in the late 1990s and was not publicly marketed until 2001. They use transparent plastic material that makes it invisible, unlike their metal counterparts. It features thermoplastic resin strong enough to pull the teeth to place.
Invisalign did not immediately receive acceptance and praise from people in the industry. This invention is not backed by years of research or credentials. So, dental professionals were hesitant to adopt Invisalign as an alternative. But its innovative design and sudden popularity pushed professionals to undergo Invisalign training.
Difference between Invisalign and braces
One of the most notable differences between Invisalign and braces is appearance. Dental braces install metal brackets and wires to push the teeth to alignment. Invisalign utilizes an entirely different design. The removable clear resin trays are worn and attached together using elastics.
Another major difference between the two systems is comfort and convenience. Depending on the individual, the removable Invisalign trays can be convenient or troublesome. They allow users to take it off to clean it with ease. But, it poses the risk of forgetting to put the trays back on.
Braces are semi-permanent aligner systems. People with braces would not be able to remove the metal brackets by themselves. This makes it difficult to care for and clean the braces. Patients with braces need to visit the dentist often for a thorough cleaning.
Benefits of Invisalign
Invisalign is a new product when it comes to orthodontics. But, Invisalign has some benefits that traditional dental braces could not offer. One of which is its comfortability when used. Unlike dental braces that use metal brackets, Invisalign features a much less obstructive and bulky design. This keeps it from cutting or digging into the gums, tongue, and cheek. It also applies less pressure on the teeth, making them less painful to wear.
Oral hygiene is also easier when wearing Invisalign trays instead of dental braces. People with braces need to maneuver around when brushing and flossing. Aside from that, there is also the risk of food debris getting stuck between wires and brackets. The removable Invisalign trays make it hassle-free to brush teeth and floss. But, the resin trays also need regular cleaning to avoid bacteria buildup.
Drawbacks of Invisalign
There are still some drawbacks to choosing Invisalign over traditional dental braces. Invisalign requires a significant financial commitment compared to braces. The price could increase depending on the trays needed throughout the process. The removable trays make it relatively less effective than semi-permanent dental braces that are worn 24/7.
Caring for Invisalign trays
Wearing the aligners for 22 hours a day can expose them to bacteria. This leaves a foul odor in the trays. Cleaning the aligners with a soft-bristled toothbrush can remove food and debris from the surfaces and corners. This should be a habit each time the patient brushes and flosses. A hard toothbrush can abrade the plastic material.
Tepid water is the ideal rinsing liquid for these aligners. Hot water is not ideal. This could weaken the aligners. It could even lead to warping. Deformed trays will not benefit the teeth straightening experience.
Soaking the trays is important. Many dentists recommend a soaking solution. This product can lift the leftover particles from the trays. Soaking the trays in mouthwash is not advisable.
Most mouthwash brands have colored products. Leaving the aligners in colored mouthwash will color them. The aligners will absorb the color. The mouthwash can also deform the trays.
Rinsing them well is necessary before wearing them again. Patients can keep the trays in a hard case. It is important to bring the trays each time the patient leaves the house. This will protect the aligners from scratches, debris, or objects that may crush the aligners.
Choosing between Invisalign and braces
Invisalign and traditional dental braces are notably different from each other. The appearance, design, and method of alignment make choosing between them quite confusing. Dental braces have been proven to be an effective tool to straighten teeth. But, Invisalign has a lot to offer as well. Consult your dentist to determine if Invisalign or braces are right for you.
Are you considering Invisalign in the Dalton area? Get more information at https://drcalldental.com.
Check out what others are saying about our dental services on Yelp: Invisalign in Dalton, GA.
---
Related Posts
March 11, 2020
Invisalign is a newer orthodontic treatment. It allows you to have straight teeth without having to get metal braces. Another benefit of this treatment is that it is often more comfortable than traditional braces. However, …