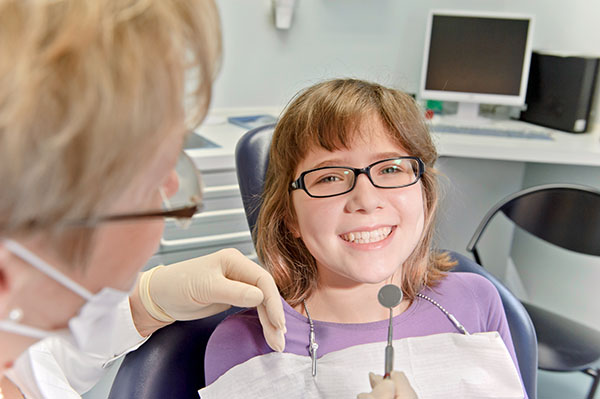 Make necessary dentist visits fun for children by going to a kid friendly dentist in Dalton. Few people actively look forward to going to the dentist, but there are ways to make the experience helpful and even enjoyable for a child. Here are a few things to look for in a dentist to help children want to get their teeth checked.
Entertainment
plain office with no toys is not likely to appeal to children. Finding an eye-catching office can go a long way towards helping children look forward to visiting the dentist.
Office environment
Fun colors or pictures on waiting room walls and entertaining decorations can signal children to calm down and feel more comfortable. There are other age-appropriate types of entertainment a waiting room can have to encourage children to enjoy the visit:
Toys
Books
Television shows
Fish
When children are having fun and being distracted while waiting for the dentist, feelings of anxiety or fear are less likely to be present. Some offices decorate patient rooms with children's themes like superheroes or princesses or put images on the ceiling to provide visual distraction during the visit.
Post-visit treats
Many children's dentist offices pass out anything from small toothbrushes or floss packets to inexpensive trinkets after a child's visit. Doing so encourages children to have positive memories and provide something to look forward to on subsequent visits.
Dentist personality
All the toys in the world cannot make up for a harsh, rough dentist or grumpy office staff. Engaging personality is one of the most important things to look for in a kid friendly dentist in Dalton.
Mannerisms
A hygienist or dentist who is not gentle or who makes sudden, unexplained movements is not likely to put a child at ease. In some cases, this type of care can be painful for a child. Moving slowly to reach for instruments and using them gently can greatly reduce a child's anxiety.
Communication
If the office staff or dentist only talks to the adults in the room, the children tend to feel ignored. Find a dentist and staff who tell jokes, laugh and explain tools or procedures to children allow them to relax and better understand what is happening.
It can also be helpful when dentists know which kind of language to use around children. Rather than mention words like "pain" or "jabbing," using language such as "pressure" or "rubbing" can prevent children from being unnecessarily anxious. Kid friendly dentists know how to ask the children questions to get to know them better. Once a child views the dentist as more of an ally and less as a threat, it is more likely dentist visits will not be dreaded as much in the future.
Conclusion
Having children's teeth checked does not have to be a nightmare. By finding a kid friendly dentist in Dalton with an entertaining office and staff who puts children at ease by being calm and engaging, children may even look forward to the next visit.
Request an appointment here: https://drcalldental.com or call Dr. Call Dental Center at (706) 425-6240 for an appointment in our Dalton office.
Check out what others are saying about our services on Yelp: Read our Yelp reviews.
---
Related Posts
September 20, 2023
A dental crown is often the best option to repair the affected area when a patient is dealing with severe tooth damage or decay. Dental crowns can also protect weak or …