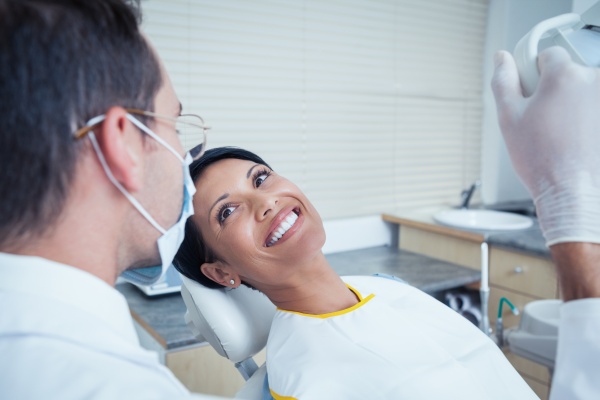 Thinking you may be in need of laser dentistry? There are quite a few advanced dental treatments options available these days and lasers are one of the most exciting. The reason is that many benefits come with using a laser, which is why more and more dentists are adding lasers to their list of dental services. Some of the more common reasons why dentists now use lasers include their ability to remove tooth decay, reshape gums, reduce oral bacteria, treat cold sores and quickly harden fillings.
According to the Academy of Laser Dentistry, some lasers are used for surgery, some to harden restorative materials and enhance tooth bleaching and others are used to remove diseased tooth structure before restoration.
A little about dental lasers

Dental lasers are safe as long as all safety precautions are carefully followed. For example, when lasers are used everyone in the room is required to wear eye protection. When lasers are used, there are no loud or annoying noises, which can make patients who experience anxiety when going to the dentist more comfortable when undergoing treatment. Lasers are so efficient that when a dentist uses a laser to treat their patients, the entire treatment process tends to be faster when compared to other dental treatments.
Laser dentistry pros and cons

The following is a list of the advantages that come with dental lasers as well as the disadvantages that can come from using dental lasers.
Pros:
Less pain is experienced when dental lasers are used.
There is less bleeding experienced when choosing lasers.
There is less swelling associated with dental laser usage.
Dentists can work with more precision when utilizing dental lasers.
Dental patients will experience a faster healing time when lasers are used.
Cons:
Lasers cannot be used on a tooth that has a filling
Lasers are not able to be used on any cavities that are in between the teeth
Lasers do not work when there is too much tooth decay present
Lasers are not able to remove any damaged crowns or bridges
Want more information on dental lasers?
If you are interested in learning more about laser dentistry, all you have to do is give us a call. We can schedule an appointment for you at a time that is convenient so that you can discuss your oral needs with one of our caring dentists. Many patients are inquiring about the dental use of lasers as there are so many benefits that come with this choice. We hope to hear from you soon so that we can help you with any concerns you may have.
Request a dental appointment here: https://drcalldental.com or call Dr. Call Dental Center at (706) 425-6240 for an appointment in our Dalton dental office.
---
Related Posts
April 16, 2018
The Food and Drug Administration (FDA) approved the use of lasers for gum treatments back in the 1990s. This technology was cleared for use on the teeth six years later. In the years since, laser …
---