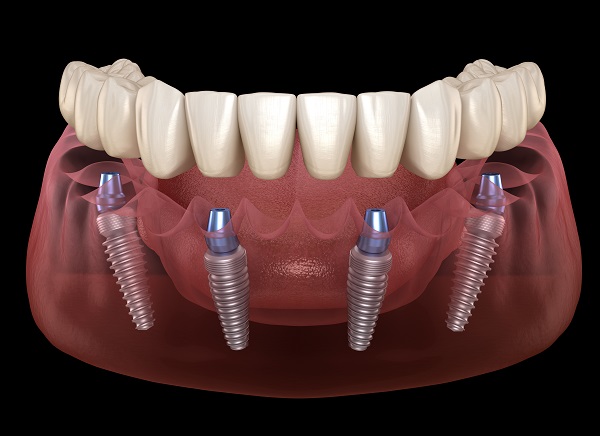 All-on-4® is a technique for replacing teeth using fewer implants compared to traditional methods. It is a great option for patients who need to replace multiple lost teeth. If you are looking for a durable teeth-replacement option, you should consider All-on-4 dental implants. Read on to learn more about All-on-4 dental implants.
Benefits of All-on-4 implants
There are numerous benefits to choosing All-on-4 dental implants. The All-on-4 technique uses dental implants to support replacement teeth that are secure, comfortable, and natural-looking. All-on-4 dental implants can last for many years. But a patient still has to take proper care of them and to visit the dentist regularly. All-on-4 is also cheaper than traditional techniques that use more implants. Here is a breakdown of some of the benefits of All-on-4 dental implants.
Fewer implants
The All-on-4 procedure utilizes as few as four implants per jaw. A full mouth of implants using traditional methods, on the other hand, would require anywhere from 8 to 10 implants per jaw. Using fewer implants makes the process quicker and more comfortable for the patient. It also makes the procedure cheaper due to the reduction in the materials required. In some cases, five or six implants are needed on the patient's upper jaw due to lower bone density.
Angled rear implants
The rear implants are often inserted at a 30- to 45-degree angle rather than vertically. This angled placement of the rear implants reduces the need for bone augmentation. This means that even individuals who have suffered bone loss should be eligible for All-on-4. This is beneficial because they will not have to go through the lengthy and costly process of a bone graft.
Improved appearance
Most people who have dental problems tend to feel self-conscious about their smiles and teeth. Fortunately, All-on-4 implants can help to address many dental issues. One of the main benefits associated with All-on-4 is that a patient can walk out of the dental office with a natural-looking reconstructed smile on the same day. Implants are placed on the jawbone and specific abutments used so that a temporary set of new teeth can be placed on the same day.
Patients must follow a modified diet for six months or so while the bone heals. But the same-day benefit only reflects the placement of the implants and new teeth. The process of osseointegration is very important so treatment cannot be fully finalized for several months after the initial visit. Many times, temporary dentures are placed on the day of surgery and the permanent dentures are usually added after several months.
Getting started
Missing teeth can make you feel self-conscious when smiling, eating, or talking. They can also cause a variety of oral health problems. Replacing lost teeth is always recommended. All-on-4 dental implants are a great solution for improving your dental health and self-esteem. All-on-4 implants are also suitable for individuals with jawbone loss. If you think you might be a good candidate for All-on-4 dental implants, talk to your dentist about the procedure.
Are you considering All-on-4 in the Dalton area? Get more information at https://drcalldental.com.
Check out what others are saying about our services on Yelp: Read our Yelp reviews.
---
Related Posts
November 24, 2021
An emergency dentist can provide prompt care after a mouth injury to minimize the initial discomfort and long-term complications. In many cases, visiting an emergency dentist after an injury can save teeth …