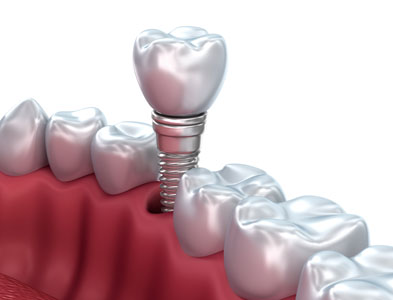 Do you wear dentures? Are you currently experiencing any denture problems? These problems can include things like having difficulty when chewing food, not being able to talk properly due to slipping dentures and even having them fall out of the mouth, which is simply unacceptable. Instead of having to deal with the above and more denture problems, there is another option.
TeethXpress is a new and improved dental method that allows a dentist to help patients not have to experience any more denture problems. Having problems with your dentures can really get in the way of your being able to enjoy living your life to the fullest.
TeethXpress
So what exactly does a dentist do in order to help keep their patients' dentures exactly where they are supposed to be? They use dental implants. When someone wears dentures for a long period of time, they began to suffer from bone loss, which can lead to a number of additional dental problems. The jawbone becomes smaller over time because the loss of teeth means that there is no stimulation in the jawbone area.
While anyone who has lost many of their teeth or are currently wearing dentures a great candidate for the TeethXpress procedure, it is ultimately up to the dentist to decide whether or not this option is indeed the best choice. Loss of facial bone structure can lead to someone looking older than their actual age.
Same day dental implant
While there are many benefits to be had by patients who undergo this procedure, one of the best is that it can often be done in only one day. Many patients are even able to return to work the following day. The entire process can take just a few short hours, which is going to be dependent on the location of the teeth and how many implants we need to place.
There are a few guidelines that we need to follow in order to properly take care of the new dental implants. If we complete the procedure properly, we will help to ensure that the dental implants last the patient for many years to come. We understand people are busy these days, and that is why we are able to offer our patients the convenience of same day dental implants.
Dr. Call dental center
Ready to get your denture problem fixed once and for all? TeethXpress is a great option that will allow you to stop worrying about your dentures so you can start enjoying your life. Wondering what the success rate is for patients who have already undergone the TeethXpress process?
A highly impressive 98 percent. Since we truly care about every single one of our patients, our team of dental experts is always available to take any questions you may have regarding your dentures. We will keep the patient in the loop throughout the entire process to ensure that there is no confusion.
Call us now for more information on how you can get your denture problems fixed in only a day.
---
Related Posts
March 16, 2019
Tooth loss isn't just something that happens to children as they grow up. Some people experience tooth loss when their teeth or gums are extremely unhealthy. While this is avoidable, it is important to remember …
---