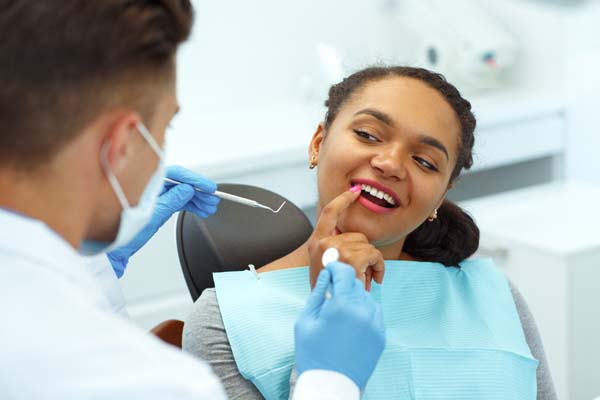 While regular dentures simply sit on top of a patient's gums and require the use of adhesives to stay in place, TeethXpress® can help patients address a tooth loss problem through the use of four to eight specially designed implants on both the top and bottom arches. Additionally, the total time of installation for this implant-supported denture is designed to be a much faster solution. While patients will need to consult with a dentist to determine the right solution for their individual needs, TeethXpress® is one option to consider.
What makes TeethXpress® unique?
With multiple options for dealing with tooth loss, it can be hard to tell the difference between the various solutions available to patients. TeethXpress® is one of these options. Here is some information on what makes this particular treatment type unique.
TeethXpress® versus conventional dentures
Traditionally, patients dealing with widespread tooth loss are made a set of full dentures to mimic the appearance and function of natural teeth. There are several different types available to patients that vary in quality and construction. Generally, dentures are made using a base that is designed to resemble gum tissue and a full set of porcelain or plastic teeth, which are then sealed to the patient's gums. The entire process typically takes anywhere from three to six weeks. With TeethXpress®, the doctor will instead attach the dentures to implants installed into the patient's jaw in only one visit.
TeethXpress® versus All-on-4
All-on-4 is another common type of implant-supported denture available to patients. The main difference between this solution and TeethXpress® is that the All-on-4 method uses only four implants on each arch. For some patients, the doctor might recommend more than four implants for a better chance of success. Generally, patients with less bone matter need six or eight implants.
The benefits of TeethXpress®
Patients can now enjoy choosing from several options when needing to replace multiple teeth. Implant-secured dentures like TeethXpress® and All-on-4 have become increasingly popular, even though these treatment options are often more expensive than conventional dentures. While not all patients are candidates for implant-secured dentures, there are several potential benefits of choosing TeethXpress®:
The installment process typically takes only one day
Dental implants require the same easy cleaning process as natural teeth
Implants are installed into the jaw, which helps prevent bone deterioration
Implants eliminate the need for adhesives
Patients can resume normal chewing and eating
No bone graft is required
Dental implants are often more secure and long-lasting than conventional dentures
The installment process is normally painless
Conclusion
Patients missing multiple or all teeth can choose TeethXpress® as an alternative to conventional dentures. Anyone considering this treatment method should consult with a doctor to determine if implant-supported dentures is possible for the particular situation. Additionally, each individual will need to consider if the additional cost of implants is worth it. With many benefits to TeethXpress®, including having a full set of dentures installed in one visit, it is an option worth considering.
Are you considering TeethXpress® in the Dalton area? Get more information at https://drcalldental.com.
Check out what others are saying about our services on Yelp: Read our Yelp reviews.
---
Related Posts
July 1, 2020
A dental filling plays a critical role in protecting the teeth and preventing further damage. But it also helps to understand how a dental filling prevents tooth decay. When teeth are damaged by decay, dental …