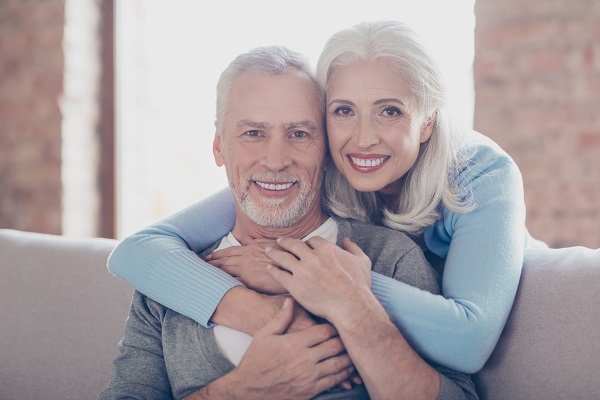 Implant supported dentures are fast becoming the preferred option for many people. For many years, traditional dentures were the only alternative for those who had experienced complete teeth loss in the upper or lower jaw. Although the structure of regular dentures has improved over the years, it still has its limitations. Getting implant supported dentures on the upper teeth can help solve some of the challenges of regular dentures.
The benefits of implant-supported dentures
Knowing what implant dentures are and how they work can help patients understand the advantages of getting this option. The dental implant is a metal post that replicates the root system once it is inserted into the jawbone. For the implant supported denture, an abutment is connected to the implants head. Afterward, a full dental prosthesis (denture) is affixed over the abutment. For the upper teeth, between six to eight implants may be needed to hold the denture in place.
Some of the benefits of choosing implant supported dentures include:
Secure fit
The support provided by implants for dentures is perhaps the biggest benefit of this option. The implants keep dentures stable, ensuring they do not slip, fall out or cause irritation to the gums. Stability means patients can smile and speak confidently in public without fear. Implant supported dentures are usually fixed and are removable only by the dental professional.
Eat favorite meals
Some foods are harder or challenging to eat with regular dentures. Hard foods are usually not an option because they can damage the dentures, and seedy foods can get trapped under the denture. Sticky or chewy foods can force the denture away from the gums while chewing. Eventually, the only choice to stick with easier or softer foods, which may compromise nutrition intake. With implant dentures, patients get biting and chewing force comparable to the natural teeth and can enjoy their favorite meals.
Easy maintenance
Since traditional dentures are supported in the mouth with adhesive and suction, they must be taken out and cleaned carefully every night. The denture adhesive can get messy too. With implant supported dentures, patients can brush their dentures like natural teeth, instead of removing the dentures and soaking them. This means less hassle before bedtime.
Less jawbone deterioration
When the natural teeth are lost and replaced with traditional dentures, the jawbone soon starts to deteriorate and weaken. Jawbone resorption continues over the years, for as long as the person has regular dentures. Dental implants help to maintain and strengthen the jawbone since they fuse with bone material in a process called osseointegration.
In conclusion
When it comes to replacing all the missing upper teeth, patients now have many alternatives to consider than before. Regular dentures might be a good way to save money, but they often cost more in the long run when you consider the inconvenience, occasional adjustments, repair, adhesives and cleaning products. You can get implant supported dentures instead and enjoy a long-lasting smile without any hassle. Contact the dentist to book an appointment and discuss your options.
Request an appointment here: https://drcalldental.com or call Dr. Call Dental Center at (706) 425-6240 for an appointment in our Dalton office.
Check out what others are saying about our dental services on Yelp: Implant Supported Dentures in Dalton, GA.
---
Related Posts
August 1, 2020
One of the more frequently asked questions about implant supported dentures is in regard to their strength and durability. Implant supported dentures involve a screw-like post that is placed into the jaw to serve as …