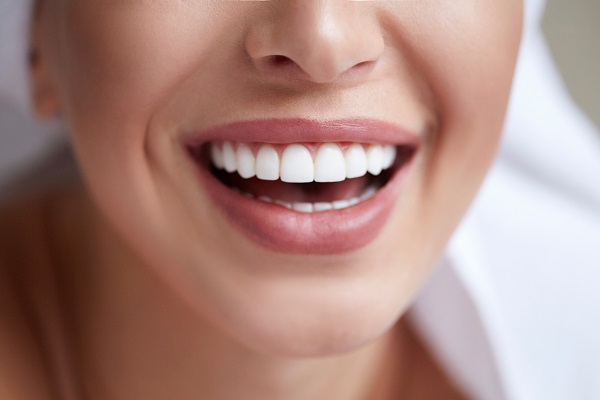 Dental laminates are a great cosmetic solution and a way to treat minor concerns with the more visible teeth in the mouth. They can be used to achieve the ideal color shade of teeth, create an even and symmetric smile, and repair minor chips and cracks to teeth.
When to consider dental laminates for front teeth
There are several reasons a dentist may recommend dental laminates over alternative treatment solutions such as dental veneers or dental crowns for restoring the appearance of a tooth. The following is a review of three reasons getting dental laminates may be necessary to improve the appearance of the patient's smile and add protection to the front teeth.
1. Laminates for treating teeth discoloration
One of the main reasons patients seek dental laminate treatment is to cover teeth stains. Minor teeth stains can be addressed through professional in-office teeth whitening. However, more severe stains may become permanent or cannot be improved by the number of shades the patient desires. When this is the case, dental laminates are often the best solution to improve the patient's smile. The good thing about laminates is that they do not require any alterations to the underlying enamel, so the procedure is not seen as being a permanent solution and may be reversible.
2. Repairing minor instances of teeth damage
Dental laminates can also address minor instances of teeth damage, such as small chips and cracks to front teeth. However, more severe damage may be best treated by dental veneers since they are thicker and able to protect the tooth in a more adequate manner. Teeth that only have minor imperfections due to damage from dental trauma or bruxism, however, are often easily treated with dental laminates, which cover and protect the tooth from further harm while also restoring its optimal appearance.
3. Creating a symmetrical smile with dental laminates
Patients who would like to address issues of uneven teeth or front teeth that are too short may prefer dental laminates over alternative solutions. Dental laminates can easily lengthen teeth to provide the perfect, even smile. They may also be able to treat minor instances of teeth misalignment as well and, in some instances, are an alternative to orthodontic care.
How are dental laminates different from dental veneers?
Dental laminates are often compared to dental veneers. Undoubtedly, the two cosmetic solutions are very similar. However, there is one key difference: dental laminates do not typically require any dental enamel to be removed in preparation for placement, which is not the case with dental veneers.
Learn more about dental laminates during a consultation visit
Here at our dental practice, we offer dental laminates and can help you decide if treatment is right for you during a consultation visit. Give us a call or send us a message today to learn more about laminates and alternative treatment solutions that may work well for you, and we can schedule a visit at a time that is convenient for you.
Request an appointment here: https://drcalldental.com or call Dr. Call Dental Center at (706) 425-6240 for an appointment in our Dalton office.
Check out what others are saying about our dental services on Yelp: Dental Laminates in Dalton, GA.
---
Related Posts
February 15, 2019
Dental laminates and dental veneers are two common procedures done to improve the overall appearances of someone's smile. From color to shape and size, both options ultimately provide non-invasive treatments to unpleasant smiles. But what …