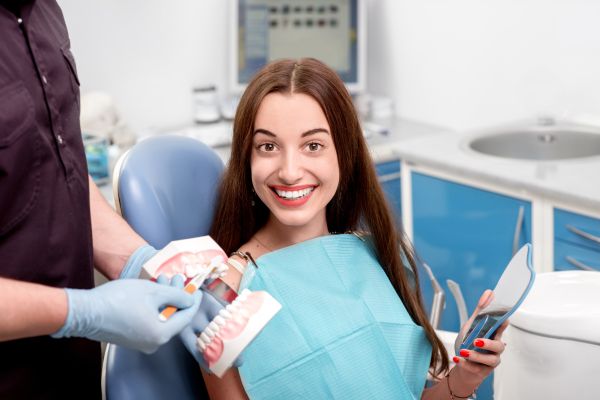 Need to brighten your teeth so you can feel more confident when smiling? Even if you take proper care of your teeth by brushing and flossing them on a daily basis, your teeth can dull over time. If you feel that your teeth would benefit from some form of whitening treatment, then discovering everything you can about the whitening therapies available nowadays is a good place for you to start.
Why do people want brighter teeth?
According to the American Academy of Cosmetic Dentistry, when people were asked what they would most like to improve about their smile the most common response was that they wanted whiter teeth. When someone has brighter teeth, they are much more likely to show their teeth and not be embarrassed when they smile. When someone's teeth are not as bright as they would like them to be, they are going to feel more self-conscious and therefore will often try to hide their teeth when they smile.
Why causes teeth to become dull?
Since everyone is different, some people may experience their teeth changing color over a short period of time or a long one. The following is a list of some of the more common reasons why someone's teeth will begin to change color or dull in their appearance.
Eating foods or drinking drinks that are known to cause stains in teeth.
The tar and nicotine found in cigarettes will cause teeth to turn yellow.
Certain types of trauma to the mouth can cause teeth to change color.
Taking certain medications can cause teeth to become darker in their appearance.
As people age, the outer enamel of their teeth will become thinner, eventually causing them to be yellow.
Teeth whitening treatment choices
Some of the more popular teeth whitening treatment options available today include stain removing toothpaste, over the counter bleaching products, at home bleaching products provided by a dentist, and in office bleaching known as a "professional teeth whitening treatment." Although there are different options, there is no result like that of a professional teeth whitening treatment completed at a dentists office.
We can answer your brighter teeth questions right now!
Ready to find out which teeth whitening options available today will brighten your teeth to your satisfaction? The more you can learn about the teeth whitening options available to you, the better able you are to make a decision that is right for your particular situation. It is vital for you to be aware of all of your dental options when it comes to your overall good oral health. If you happen to have any questions about the teeth whitening treatments available today so you can make a choice that is right for you, please know that we are ready to answer any questions you have.
Call (706) 425-6240 today to reach Dr. Call Dental Center.
---
Related Posts
June 1, 2022
For many people, tooth discoloration is the primary oral issue that prevents them from smiling and speaking with confidence. There are many treatment options for a smile makeover, but few offer the …
---