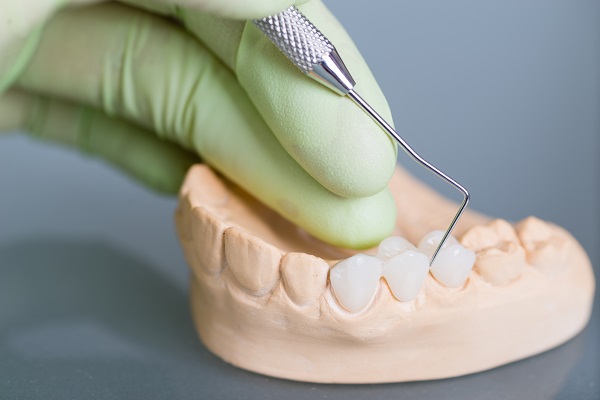 Whether you need a root canal or have decay, your dentist may have recommended that you get a dental crown. However, you might be wondering what a dental crown is. A crown can restore the appearance and the function of your natural tooth. It is a way of saving your tooth, which is better than getting an extraction. Read on to learn more about what dental crowns are.
What a dental crown is
A crown is a cap that goes over the top of the tooth. It covers the entire visible portion of the patient's tooth. The crown can be made from one of several types of materials. This can include porcelain, metal, composite resin or porcelain and metal together. The dentist will often choose a material that closely matches the natural teeth. Several things will go into deciding what material to use, including:
The location and the function of the tooth
The gum tissue's position
The patient's preference
The shade or color of the tooth
The patient's preference
Why get a dental crown?
There are several reasons why a patient might need to have a dental crown. One reason is to cover a tooth with a cavity that is too large to get a filling. Worn teeth can also benefit from crowns. For example, patients who grind their teeth may have worn molars, and these can benefit from crowns.
After a root canal treatment, a patient will receive a crown. The tooth's pulp is removed and replaced with a filling inside the tooth. However, the crown will protect the tooth from being damaged. A poorly shaped tooth can benefit from the protection of a crown as well. It will improve the patient's overall smile.
Patients who get bridges may also receive dental crowns. A bridge is a set of one or more false teeth. It is used to bridge the gap left by a missing tooth. A patient may receive a crown on the teeth on both sides of the gap. The bridge can then be attached to each of the crowns.
Crowns and dental implants
Patients who are getting dental implants may also receive crowns. The process to place these is a little different than when the crown goes over an existing tooth. The dentist will place the base of the implant in the patient's jaw first. The crown is the false tooth that goes over the implant after healing. There is an attachment that connects the implant with the dental crown.
Visit a dentist today for a dental crown
A dental crown has a variety of uses. It is most often used to protect your tooth, such as after a root canal treatment. However, a dental crown can also be used to improve the appearance of your tooth. If your tooth is not attractive, a crown will fix those issues. If you think that your smile may benefit from one or more crowns, visiting a dentist is your first step.
Request an appointment here: https://drcalldental.com or call Dr. Call Dental Center at (706) 425-6240 for an appointment in our Dalton office.
Check out what others are saying about our dental services on Yelp: Dental Crowns and Dental Bridges in Dalton, GA.
---
Related Posts
May 1, 2021
Patients who have damaged teeth might want to consider getting a dental crown. One of the benefits of a dental crown is that it can protect the tooth and prevent extraction from …