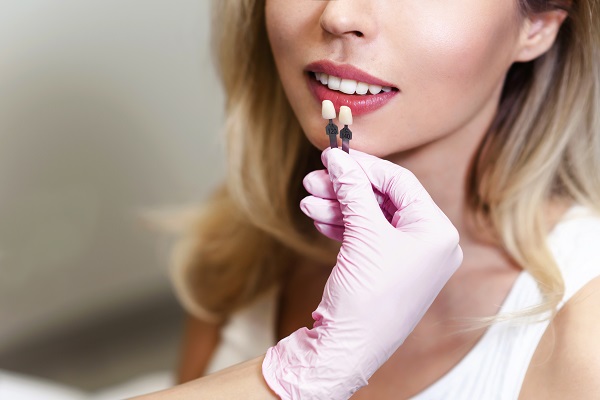 Cosmetic dentistry is a great way to improve your smile by addressing imperfections in your teeth. By learning more about your cosmetic dentistry procedure options, you and your dentist can put together a treatment plan to reach the goals you have for your smile.
Cosmetic dentistry procedure options
There are many types of cosmetic dentistry treatments available to patients, and every treatment plan is personalized according to the patient's specific treatment goals. Some of the more notable cosmetic dentistry procedures to consider include in-office teeth whitening, veneers, dental bonding, teeth-straightening options, and gum contouring.
Teeth whitening
Professional, in-office teeth whitening is a great way to address mild to moderate tooth stains and brighten your smile by as much as eight shades. The procedure involves the application of a whitening agent to the visible surface of teeth, which is left on for about 30 minutes before it is washed away. The dentist may recommend repeating the process during the same visit until the desired results are achieved.
Veneers
Veneers are a form of tooth restoration. They are made of durable and aesthetically-pleasing porcelain material. The thin layers of porcelain (which are customized in a laboratory for each patient) are positioned over existing teeth, ensuring the optimal appearance.
Dental bonding
Dental bonding involves applying a tooth-colored composite resin material over visible teeth to improve their appearance and help protect them from harm. A bonding procedure only takes one dental visit and is minimally invasive. They are, on average, more affordable than veneers as well, although the results may not last as long.
Dental crowns
Dental crowns are used to repair more severely damaged teeth, especially teeth that are further back in the mouth. The dentist can use ceramic material to achieve optimal aesthetic benefit and make the restoration indistinguishable from other natural teeth.
Braces
Braces are a popular form of teeth straightening that involves the use of metal or ceramic brackets and wires that move teeth into a more aligned position. They work well for all types of malocclusions and teeth misalignments, including severe cases.
Clear aligners
Clear aligners are becoming a more popular alternative to braces, although they may not be the best option for treating severe misalignment concerns. Clear aligners involve the use of transparent aligner trays that must be worn for 20 to 22 hours each day.
Gum contouring
Gum contouring is used to improve the appearance of the gumline. It most commonly involves removing excess gum tissue to make "short teeth" appear longer (known as crown lengthening). However, a gum graft may be an option to address gum recession, as well.
Tips for choosing cosmetic dentistry procedures
Choosing which cosmetic dentistry procedures are best for you can be challenging. The following are three tips as to how you can find the treatments that are right for you and feel confident in establishing your treatment plan.
Establish your treatment goals
Your goals will largely dictate which treatment options are most appropriate. Common types of goals that patients have for cosmetic dentistry include brightening their smile, fixing uneven or short teeth, fixing teeth and jaw misalignments, and addressing a "gummy smile." Multiple cosmetic dentistry treatments can be combined into a single treatment plan that is known as a smile makeover in order to address more than one specific goal for treatment.
Determine your budget and dental insurance coverage
Cosmetic dentistry procedures are less often covered by dental insurance than diagnostic, preventive, and restorative dental procedures. However, many cosmetic procedures, particularly those that protect teeth and help improve oral health, are often covered either partially or fully by insurance. Understanding these coverage areas is important when choosing the right types of cosmetic dentistry procedures. For those who do not have dental insurance, your budget (both in the short-term and for long-term maintenance) should be a factor.
Find the right dentist for your cosmetic dentistry needs
It is also important to find a reputable dentist that specializes in cosmetic dentistry services to help you reach your treatment goals. By finding a dentist that you trust, you can receive professional guidance and advice as to which services are likely to be the most beneficial for you.
Find out more about your cosmetic dentistry treatment options
Are you considering one or more cosmetic dentistry procedures to improve your smile? If so, then contact our dental office today to learn more about your treatment options and to schedule a time to come in for a consultation visit.
Are you considering cosmetic dentistry in the Dalton area? Get more information at https://drcalldental.com.
Check out what others are saying about our dental services on Yelp: Cosmetic Dentist in Dalton, GA.
---
Related Posts
November 1, 2022
Cosmetic dentistry refers to the field that focuses on improving the aesthetic appearance of one's smile while also preserving the health of the teeth and gums.What many do not know about …