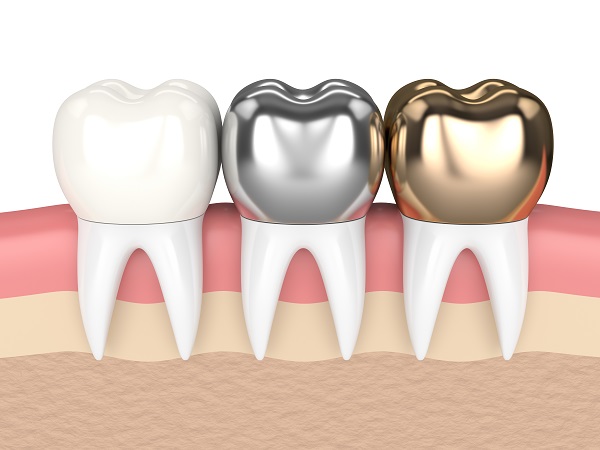 A dental crown is a restorative solution designed to cover a person's tooth or an implant with a cap that is similar in shape and size to a natural tooth. While the benefits of this procedure are partly cosmetic, it is often used in situations where a tooth is damaged or decayed. Before opting for this treatment, patients should understand what to expect from the surgery and know what options are available.
Factors with a dental crown
For patients with damaged teeth, there are often several procedures that could be used to address the problem depending on its severity and the location of the tooth. Here are factors people should consider and discuss with a dentist before moving forward with the treatment.
Purpose
There are several situations where a dental crown can be used as a restorative measure. While tooth decay can often be addressed with a dental filling, more severely decayed teeth may have holes too large to support a filling or may be visibly cracked or worn down. In these scenarios, a crown can help support and protect the tooth from further damage and also make it look more attractive.
Crowns are useful in situations where teeth are severely cracked or broken. Crowns are sometimes used in conjunction with other dental procedures, such as protecting a tooth after a root canal or topping an implant after it has fused with the jawbone. Sometimes crowns are used for primarily cosmetic reasons, including concealing discolored or misshapen teeth.
Procedure
For traditional crowns, the procedure takes place over the course of two separate appointments. During the first appointment, the dentist may take X-rays of the patient's mouth and make a mold both before and after making any alterations to the tooth. Next, the outer layer of the tooth, called the enamel, is removed and covered with a temporary crown. It often takes a couple of weeks for a dental lab to use the impressions made during this appointment to create a permanent crown. Once finished, the permanent dental crown is cemented into the patient's mouth during a second appointment.
Materials
There are several options to consider when choosing dental crowns:
Metal and stainless-steel crowns are a durable option, but they do not offer the same cosmetic benefits as other materials; this alternative is often used on out-of-sight molars or as a temporary solution for primary teeth.
All-ceramic crowns are designed to look similar to a person's natural teeth, making them a popular choice for front teeth.
Porcelain-fused-to-metal crowns involve a metal crown with a porcelain outer shell; while this option is more durable than porcelain alone, it is common for the underlying metal to show along the gum line.
All-resin crowns are an affordable option made from composite materials but are susceptible to damage.
Conclusion
Individuals interested in getting a dental crown should choose the option that fits their unique lifestyle and cosmetic goals. A dentist can offer guidance during the consultation process and answer any further questions the patient may have.
Request an appointment here: https://drcalldental.com or call Dr. Call Dental Center at (706) 425-6240 for an appointment in our Dalton office.
Check out what others are saying about our services on Yelp: Read our Yelp reviews.
---
Related Posts
June 24, 2022
Cosmetic dentistry can transform an embarrassing smile into something that is beautiful, straight, and strong. Patients who want an improved appearance have a number of options for addressing teeth that are crooked, …