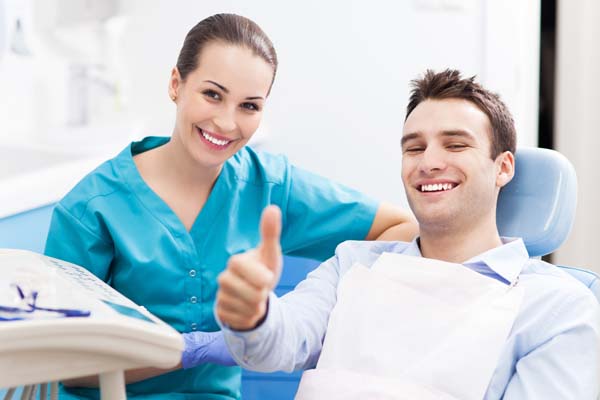 Like veneers and crowns, dental bonding is a cosmetic treatment designed to fix cracks, gaps, stains and chips in the teeth but at a fraction of the time and money. To many individuals looking to perfect their smiles on a budget, it makes sense to pursue a dental bonding treatment without hesitating to consider other, costlier alternatives. Before making that leap, however, it is necessary to know what the procedure entails, as well as what other factors to take into account.
What happens during the bonding process?
Although dental bonding can correct several types of dental imperfections, the American Academy of Cosmetic Dentistry explains that this treatment is ideal for fixing a chipped tooth. The process of filling the missing tooth is relatively easy. First, a dentist uses a shade guide to find the closest match between the color of the composite resin filler and that of the natural tooth. After selecting the closest-matching color, the dentist roughens the surface of the tooth by lightly etching it and then applies a liquid conditioner that acts as an adhesive to the bonding material. Next, the dentist applies the resin to the prepared tooth in a clay-like texture in order to mold and smooth it into the right shape. After the resin hardens under ultraviolet light or laser, the dentist will trim, shape and polish it so that it blends seamlessly with the rest of the tooth.
Who benefits most from the treatment?
This entire process can be completed within an hour and requires no anesthesia in most cases, which is why it may be great for fixing minor imperfections in the teeth. A young person who chipped a tooth due to an accident may be the ideal candidate for this treatment, whereas someone with several broken teeth may need to make frequent visits to the dentist before achieving a complete set of evenly-shaped teeth. This can be costly in the long run, especially considering that the composite resin is temporary and requires frequent touch-ups for maintenance.
How long does the bonding material last?
Because the resin is made of composite material, it is prone to staining and cracking. Patients should limit smoking, as well as their intake of coffee, red wine or other foods and beverages that cause staining, especially for the first few days following treatment. Basic oral hygiene habits such as brushing teeth twice daily and getting regular professional cleanings can also help prevent staining. In addition to taking preventive measures not to stain their teeth, patients must also be careful not to accidentally crack the resin when they bite or chew hard foods. Although bonding treatments are temporary, the effect can last up to 10 years with proper care.
Conclusion
Many celebrities turn to veneers and crowns as the secret to a picture-perfect grin for the red carpet. Maybe a dental bonding treatment can be your secret to celebrating a camera-ready smile.
Request an appointment here: https://drcalldental.com or call Dr. Call Dental Center at (706) 425-6240 for an appointment in our Dalton office.
Check out what others are saying about our services on Yelp: Read our Yelp reviews.
---
Related Posts
September 20, 2023
A dental crown is often the best option to repair the affected area when a patient is dealing with severe tooth damage or decay. Dental crowns can also protect weak or …