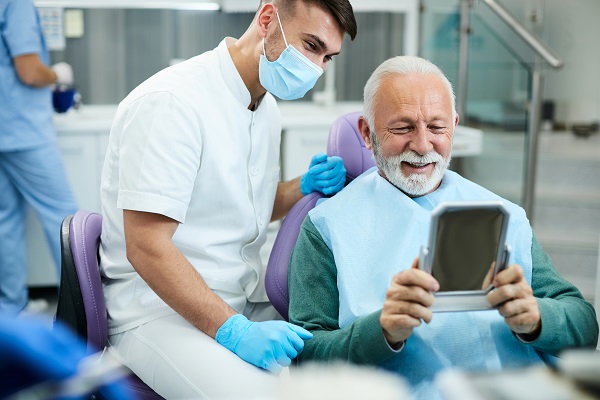 After tooth decay or oral health concerns develop, prompt and effective treatment from the dentist is often required. A dental crown is one of the main treatment options dentists recommend to treat a range of oral health and cosmetic issues. A dental crown can improve a tooth's size, shape, and function and last for over a decade with proper dental care.
An overview of dental crown treatment
As people age, their teeth begin to wear down. This wear could result from various causes, such as tooth decay, traumatic injuries to the mouth, or natural wear and tear. Over time, teeth can lose their shape and size. Therefore, there are circumstances when a dental crown is the most appropriate treatment option. In some instances, foregoing dental crown treatment can cause the issue to worsen and cause severe pain, swelling, and tooth sensitivity. This is why it is important to understand when a dental crown may be considered necessary.
Dental crown treatment explained
A dental crown covers and encircles a damaged tooth to restore the health, size, shape, and function of the tooth. Dental crowns are strategically designed to fit the exact tooth it is intended to protect. There are several types of materials a patient can choose from, including:
All ceramic or all porcelain: These crowns match the natural color of teeth and can be placed on front or back teeth. They are more suitable for those with allergies to metal.
All-resin: Resin dental crowns are less expensive than other types of dental crowns, and they match the natural color of teeth. However, they experience more wear and tear and are more prone to fracture than other types of crowns.
Metals: The metals that make up dental crowns are alloys with a high content of gold, platinum, or base-metal alloys, such as cobalt-chromium. These types of crowns are durable and have greater longevity than other dental crown options.
Porcelain-fused-to-metal: These types of crowns are an optimal choice for front or back teeth. They are also the preferred choice for patients with long dental bridges; the bridges require the strength of the metal to support them.
Stainless steel: Generally, these types of crowns are commonly used for children's baby teeth. The crown is fit to naturally protect the tooth until the permanent teeth come in. The temporary crown then comes out naturally with the baby tooth.
Dental concerns a crown can address
Dental crowns can fix a range of dental issues and improve the function, appearance, and, most importantly, the health of a tooth. Several of the more common reasons a dental professional may recommend dental crowns to a patient include:
Covering a dental implant
Covering or protecting a weak tooth
Holding a dental bridge in place
Restoring a broken or worn-down tooth
The tooth has weakened enamel
Dental crowns may also be recommended if the patient needs a large dental filling or root canal. In this case, the dental crown can protect the tooth and reduce the risk of a lost filling, oral infection, and severe tooth decay.
Other options vs. dental crowns
Other treatment options may include inlays, onlays, 3/4 crowns, or dental veneers. Inlays, onlays, and 3/4 crowns are the most similar to dental crowns, although they only cover a portion of the tooth, whereas dental crowns encircle the entire tooth. Onlays and 3/4 crowns are used when the patient still has a solid tooth structure. It is considered a more conservative approach compared to using a full crown. Nevertheless, a full dental crown is more durable (depending on the material) and works better for protecting teeth that are more vulnerable to further damage and advanced tooth decay.
How to start the treatment process
The first step toward dental crown treatment is to get in touch with a general dentist and arrange a consultation visit. During the consultation, the dentist can discuss the benefits of dental crown treatment, along with other possible treatment options, and help the patient decide which option is best. Dental crown treatment only takes one or two dental visits, and the placement procedure is minimally invasive, which means there is little to no recovery time.
Schedule a consultation today
When you need a dental crown, it is best to consult with a general dentist who can start the dental crown process. Dental crowns are a great option, whether there is an oral health concern or a desire to improve the appearance of a tooth. Reach out today to learn more or to get started!
Request an appointment here: https://drcalldental.com or call Dr. Call Dental Center at (706) 425-6240 for an appointment in our Dalton office.
Check out what others are saying about our dental services on Yelp: Dental Crowns and Dental Bridges in Dalton, GA.
---
Related Posts
September 20, 2023
A dental crown is often the best option to repair the affected area when a patient is dealing with severe tooth damage or decay. Dental crowns can also protect weak or …