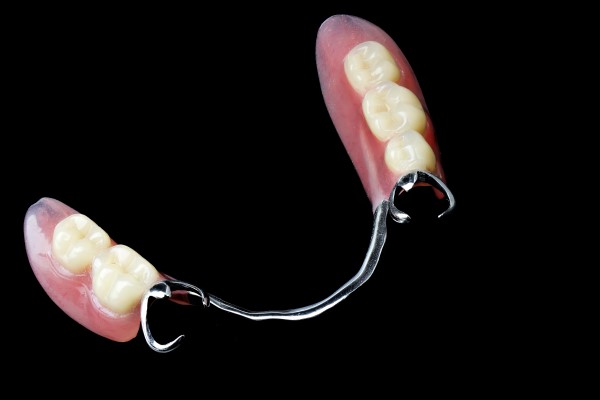 Partial dentures are ideal for replacing multiple missing teeth and can achieve a natural-looking smile. This review discusses when a dentist may recommend partial dentures rather than alternative dental restoration options for a patient with a missing tooth or multiple missing teeth.
Reviewing the ideal patient for partial dentures
Partial dentures are restorations used to replace a missing tooth or a small section of missing teeth. They look just the same as natural teeth and do not require a surgical procedure unless they are supported by dental implants. Partial dentures are typically removable and supported by the gums.
Missing a single tooth or small section of teeth
Partial dentures are used to replace either a single missing tooth or a small section of missing teeth, whereas complete dentures are used to replace an entire row of teeth. Therefore, the ideal candidate for partial dentures is someone who has missing teeth that are causing an oral health, functional, or cosmetic concern. Every partial denture is personalized to fit comfortably in the mouth and to provide the patient with a smile that looks natural and allows for optimal function while eating and speaking.
The patient desires a non-invasive treatment process
One of the main benefits of partial dentures is that they are minimally invasive. Partial dentures are supported by the gums and do not require a surgical procedure. Dental implants, however, do require surgery to place the implants inside the jaw. Therefore, those who desire the least invasive and safest treatment option to replace a missing tooth or section of teeth should consider partial dentures.
The patient wants fast treatment results
The treatment time for partial dentures is much shorter than the treatment time for dental implant restorations. There is no surgical procedure necessary that requires the mouth to heal. Instead, the impression for the dentures is taken early in the process, and the patient can enjoy their new teeth within a few months after the consultation visit.
The patient is willing to take proper care of the partial dentures
Partial dentures are removable, so they do require special care that implant restorations do not. The dentist can provide detailed instructions for how the patient can care for their partial dentures. This typically includes washing them daily and rinsing them often. It is also important to practice good oral hygiene by brushing, flossing, and using mouthwash regularly and to visit the dentist for regular check-up visits and dental cleanings.
Schedule a visit with our team to learn more about partial dentures
Here at our dental practice, our dentist and staff work hard to ensure that our patients are happy with their smiles. For individuals who have one or more missing teeth, we recommend teeth replacement either in the form of partial dentures or an alternative solution. To learn more about your teeth replacement options, call us today to schedule a visit.
Request an appointment here: https://drcalldental.com or call Dr. Call Dental Center at (706) 425-6240 for an appointment in our Dalton office.
Check out what others are saying about our dental services on Yelp: Partial Dentures for Back Teeth in Dalton, GA.
---
Related Posts
April 14, 2021
The dental restoration that an implant dentist provides has become the preferred option for replacing lost teeth. Patients who are considering dental implants often have many questions about the procedure. In this …