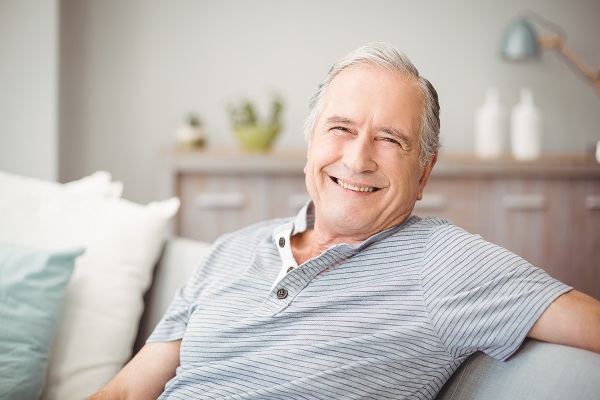 All-on-4® dental implants provides you with a missing teeth replacement option that helps prevent the bone tissue loss that can take place when teeth are lost. It combines implants with dentures to provide an affordable solution for anyone who has lost most of their real teeth.
Before the invention of implants, people who had lost most of their real teeth were forced to wear dentures. Dentures restore the function and appearance of lost teeth, but their poor stability leads to issues like sores forming due to the dentures rubbing against soft tissues in the mouth or them falling out of the mouth when speaking and eating.
Dentures also come with maintenance cleaning requirements that can take up to 20 minutes. They need to be carefully washed daily and stored in a denture solution.
All-on-4 gives patients permanent artificial teeth that stay in their mouth after their installation. They do not have to do anything to keep their restoration in good condition besides brushing and flossing as they have always done.
Figuring out if you're a good candidate for All-on-4
All-on-4 is ideal for people who have lost most of their teeth. Ideal candidates should have enough healthy bone tissues in their jaw to support implants. Patients who lack the required bone density might need to get bone grafts and heal from the procedure before getting implants. It can take up to three months to recover after implants.
Ideal candidates for implants should also be healthy enough to recover from minor oral surgery. The dentist will talk to the patient about their health history and issues like diabetes that can hinder recovery. Habits like smoking and drinking will also be discussed, since they can slow down the recovery process.
The benefits
Those who are interested in getting implants should have good oral hygiene or be willing to make improvements. Good oral hygiene is essential during recovery because it helps prevent complications, like infections, from developing. The benefits of choosing All-on-4 over traditional dentures include the following.
Patients get a full set of teeth in as few as two visits to the clinic
It effectively restores the function of the patient's teeth without them having to worry about their artificial teeth moving or falling out of their mouth
The implants help prevent the bone tissue loss that takes place when teeth are lost; failing to address this can lead to changes to facial structures, like the development of a sunken look
Patients get artificial teeth that look just like real teeth
Patients no longer have to dedicate a portion of their day to taking care of their artificial teeth; oral hygiene is all they need to keep their artificial teeth in good condition
The implants used to anchor down the dentures can last a lifetime
Get a complete missing tooth solution
All-on-4 gets you a set of artificial teeth that are almost indistinguishable from the real teeth that you lost. Give us a call or stop by our Dalton clinic to set up a consultation with our dentist.
Request an appointment here: https://drcalldental.com or call Dr. Call Dental Center at (706) 425-6240 for an appointment in our Dalton office.
Check out what others are saying about our dental services on Yelp: All-on-4 in Dalton, GA.
---
Related Posts
September 13, 2021
Considering All-on-4®? This hybrid tooth replacement option is one that can successfully replace an entire arch of missing or damaged teeth. The results are so natural-looking that more and more individuals are …