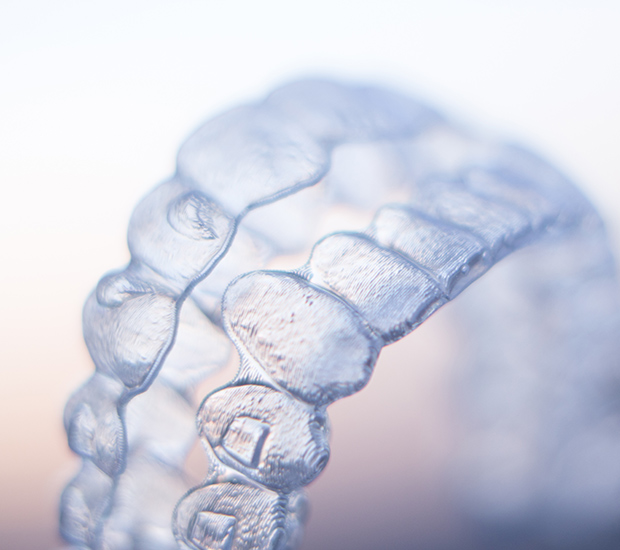 ClearCorrect® braces are an alternative to both traditional braces and Invisalign®. In our Dalton dentist office, we provide this solution for straightening teeth discretely. If you live in or near the 30721 area and want to improve your appearance, we invite you to call (706) 425-6240 and schedule a consultation to learn how this treatment option can work for you.
What is ClearCorrect?
Instead of relying on metal brackets and wires to move teeth, ClearCorrect braces use a series of clear aligners to move teeth into place. The aligners are made of a clear and comfortable plastic that looks similar to a full retainer. By taking care of them and refraining from scratching their surface, aligners will remain clear and virtually invisible when worn. At Dr. Call Dental Center, we can show you how to keep your aligners in perfect condition during the treatment process.
The aligners are created using an impression of your teeth and gums. Once received, the lab will create a series of aligners that start with the current position of your teeth and slowly move them until they are perfectly straight. Each aligner is worn for four to six weeks and afterwards, replaced with the next aligner in the series. The aligners are designed to place pressure on specific teeth so that they are moved gradually for a more comfortable experience. By wearing all of the aligners in the series your teeth will move from crooked to perfectly straight.
The aligners are given to you at the beginning of the procedure so that you don't have to visit our Dalton dentist office every time that you need to switch them out. This allows you to spend less time in the dental chair than you would when wearing traditional metal braces.
ClearCorrect vs. Traditional Braces
Traditional metal braces are extremely effective for straightening teeth and treating misaligned jaws. This is perhaps, the most common orthodontic procedure, and effective for both children and adults. The technology has improved over the past decade, making metal braces more comfortable than ever. Still, this solution requires that a metal bracket be placed onto each tooth with a metal wire threaded between them and secured in place with rubber bands. While smaller than they used to be, metal braces are still conspicuous and impact the way that a person looks and feels. Many people find that they are distracting and simply don't fit into a busy or professional lifestyle.
Simultaneously, metal braces are difficult to keep clean as food can become stuck in between the brackets, requiring a special floss to be removed. At Dr. Call Dental Center, we speak with patients that have told us they had to change their diet and skip out on some of their favorite treats when wearing braces. While only temporary, this can be inconvenient and at times, frustrating. Given the tendency for food to become stuck, those wearing braces, also need to spend more time brushing and flossing throughout the day.
ClearCorrect is a far more convenient option and one that patients throughout Dalton are taking advantage of. The aligners themselves are supposed to be removed when eating so there are no restrictions on which foods you can eat, no chance of something become stuck or the embarrassment of feeling awkward while eating. They are supposed to be worn for 22 hours per day, leaving plenty of time to plan a romantic dinner out, business meeting, or lunch with friends. This makes it possible for patients throughout Georgia to maintain their current lifestyle without any further restrictions.
Another advantage of ClearCorrect® braces over traditional ones, is that the aligners can be taken out while playing sports, a musical instrument or singing in the choir. As a dentist, for example, we recommend that athletes wear a mouth guard during practice or a game and by removing the aligners this is possible. When wearing traditional braces, on the other hand, it can be difficult to wear the necessary protective gear without causing further irritation. If you play sports on a regular basis and live in the 30721 area, we invite you to schedule a consultation to see how much easier it is to continue wearing a mouth guard when using ClearCorrect® to straighten your teeth.
ClearCorrect® Braces vs. Invisalign®
In our Dalton dentist office, we offer ClearCorrect® braces as an alternative to Invisalign® and are confident that this is the superior way to straighten teeth using aligners. When comparing the cost of ClearCorrect® with Invisalign® we have found that our solution typically saves our patients money over the course of their treatment. By making it more affordable to straighten teeth, we can work with more patients throughout the 30721 area. Another benefit of ClearCorrect® braces is that the aligners themselves seem to be clearer than those provided by Invisalign®. While this is subjective, many dental professionals share in this observation.
At Dr. Call Dental Center, one of the requests that we receive on a frequent basis is to straighten teeth quickly. This is never truer than with busy, professional adults that are on a time crunch and not wanting to take time out of life to straighten teeth. In general, ClearCorrect® has better and faster customer service than Invisalign®, which means that the aligners are often returned faster and that adjustments can be made without prolonged delays. Since they manufacture the aligners in the United States, versus overseas, the process is even faster. This enables us to provide you, our patient, with aligners in an expedited fashion so that you can begin treatment and have straighter teeth – faster.
They both have a similar method for treating teeth, applying pressure through aligners, so by providing you with ClearCorrect® braces; you will receive phenomenal results, high-quality patient care, and beautifully straight teeth. If you are considering either of these options, we invite you to call 706-425-6240 and schedule an appointment with our Dalton dental office so that we can discuss your goals and the ClearCorrect® procedure in further detail. Once you are ready to get started, we will walk you through the process and examine your teeth on a regular basis to ensure that they are responding as they should, so that you can love your smile again.
Helpful Related Links
About our business, license, and website security
Dr. Call Dental Center was established in 1980
We accept the following payment methods: American Express, Cash, Discover, MasterCard, and Visa
We serve patients from the following counties: Whitfield County
We serve patients from the following cities: Dalton, Chatsworth, Chattanooga, Ringgold, Rocky Face, and Cleveland Tennessee


Healthgrades. View Background Information and Reviews
Website Safety Ratings and Reputation – AVG Threat Labs. View Details
Norton Safe Web. View Details
Trend Micro Site Safety Center. View Details
Back to top of ClearCorrect Braces