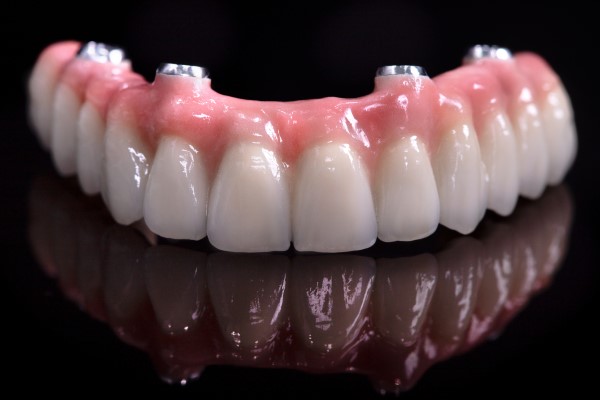 Considering All-on-4®? This hybrid tooth replacement option is one that can successfully replace an entire arch of missing or damaged teeth. The results are so natural-looking that more and more individuals are looking into how it works. Continue reading to learn more about the All-on-4® procedure.
All-on-4® for upper arch replacement
Below is a quick overview of how All-on-4® can be used to replace an entire arch of upper teeth. This information may be helpful to individuals requiring tooth replacement.
All-on-4 defined
All-n-4 is defined as a tooth replacement method involving the use of just four dental implants per arch. In addition to the four dental implants, a denture piece is also used to replace the actual teeth. The denture piece attaches to each dental implant, making for a full arch of artificial teeth.
How it works
The All-on-4 method is completed in a few steps. To begin, four dental implants will be placed in the upper portion of the jaw. They are evenly spaced to ensure maximum strength and durability. After a period of healing and osseointegration in which the implants fuse with the bone, the dentist can return to the implant sites and place abutments. Abutments are small metal connectors that attach the denture piece to the implants. Next, impressions are taken to ensure that the denture fits properly within the mouth. After a couple more weeks of waiting, the denture can be permanently placed, where it will be attached to the abutments and implants.
Although the All-on-4 process may feel time-consuming, the results are worth the wait. Nonetheless, it is good to have an understanding of the process beforehand so that realistic expectations can be set in advance. From start to finish, the entire All-on-4 process can take a few months to complete.
The importance of the upper set of teeth
In the case of the upper set of teeth, it is especially crucial to get them replaced so that normal functions, such as eating, smiling, and speaking, are possible.
It is also important to know that when a single tooth is lost, the bone beneath can begin to deteriorate. However, when an entire arch is lost, the jawbone may really begin to suffer. The jawbone relies on the teeth in order to stay stimulated and intact. If multiple teeth are missing, the result may be deterioration, which can lead to facial structural changes and serious conditions, like TMJ disorder. In order to get these conditions reversed, extensive treatment may have to be done, including physical therapy or reconstruction surgery, both of which can be time-consuming.
Find out more about All-on-4®
When considering All-on-4® for upper arch replacement, it is best to start by consulting with a dentist. The dentist can carefully evaluate the oral cavity to determine if the All-on-4® method is suitable. From there, patients can ask questions or go over any concerns that they have. To learn more or to get scheduled for a consultation appointment, contact our dental office today.
Request an appointment here: https://drcalldental.com or call Dr. Call Dental Center at (706) 425-6240 for an appointment in our Dalton office.
Check out what others are saying about our dental services on Yelp: All-on-4 Dental Implants in Dalton, GA.
---
Related Posts
June 21, 2021
An All-on-4® system is a practical and efficient solution to losing a full arch of teeth. This type of restoration has four implants. These implants support permanent overdentures. All-on-4 implants are ideal …