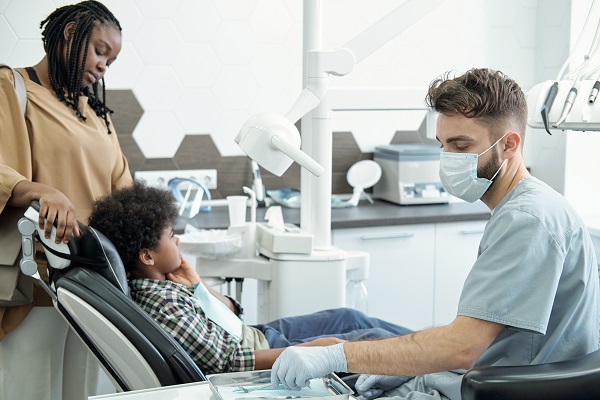 When you select a dentist, you are choosing a partner who will work to maintain the quality of your oral health. The choice of a family dentist to work with your entire household offers a variety of benefits, including a comprehensive range of services to keep everyone's smiles bright and healthy. A family dentist is trained to handle the unique oral health needs of children, the changing dental needs of adolescents and young adults, and the specific demands of adult dental care. There are many benefits associated with visiting a single dental provider to care for the teeth of your entire family.
Preventive procedures
While most people have had the importance of basic oral hygiene reinforced from a young age, in reality, many people fail to brush and floss twice a day. In addition, dietary issues and other bad health habits like smoking lead to numerous dental problems that lead to the need for interventions later in life. This makes the following preventive dentistry procedures performed by family dentists even more important.
Regular assessments
Dental issues such as tooth decay or gum disease can stem from sugary foods or lack of proper brushing and flossing and are often not noticeable until the problem is advanced. The ideal way to detect dental problems is to receive regular checkups. Family dentists examine gums and teeth for the buildup of plaque and the existence of decay to catch the issue early and avoid more invasive and expensive treatments that would be required if the problems worsen.
Professional cleanings
Ridding your teeth of plaque buildup requires the use of professional instruments in a dental cleaning procedure. Scheduling visits twice a year for professional deep cleaning allows your family dentist to remove plaque, strengthen your teeth, and prevent harmful decay from setting in.
Fluoride treatment
Fluoride aids in the absorption of essential minerals such as calcium and phosphate, protects teeth from the effects of acidic foods and beverages, and can halt the formation of cavities. Your family dentist can prescribe a concentrated fluoride treatment to help promote healthy teeth and can advise you regarding toothpaste and mouthwash to maximize your fluoride intake with the products you regularly use.
Restorative practices
If your smile has some flaws or you are experiencing tooth decay despite your preventive measures, your family dentist can help fix the issues with several restorative procedures. Remember that your dentist is available beyond your twice-annual cleaning visits, so be sure to call if you notice anything about your teeth that causes concern.
Fillings
Fillings are the most common form of restorative dentistry. Made of amalgam or composite materials, fillings can stabilize and repair the structure of a tooth that has been damaged by decay and cavities.
Crowns
Crowns are ideal for those with significant decay, severe cavities, or broken teeth. These tooth-shaped caps are cemented over the teeth to strengthen the structure of the teeth and protect them from additional damage.
Bonding
When teeth are broken or chipped, your family dentist can use bonding for repairs. This is the process of replacing missing enamel by shaping and attaching composite materials to the existing tooth.
Bridges
When teeth are missing, a dental bridge can be used to cover the gap. Anchored by a crown on each end, a bridge generally uses an artificial tooth to fill the space between crowns. Bridges can be helpful to keep other teeth from shifting, and they work the same way as natural teeth once they are placed in the mouth.
Implants
Another method of replacing missing teeth is with dental implants. Implants use a metal anchor that is inserted in the jawbone to support an artificial tooth. Dental implants look, feel, and function just like natural teeth, enabling you to regain a healthy smile and bite.
Conclusion
Choosing the right dentist for your family's lifelong care is an important decision because your dentist is so much more than the sum of the comprehensive dental procedures performed in the office chair. As a partner in maintaining the oral health of you and your family, your dental provider will establish a relationship with your entire household and provide appropriate care for the changing needs of your teeth. Through dispensing valuable oral hygiene advice, performing important preventive procedures to avoid long-term problems, and crafting restorative processes to fix issues that crop up as a result of aging or poor habits, your family dentist will care for your teeth and those of your loved ones throughout all of life's stages.
Request an appointment here: https://drcalldental.com or call Dr. Call Dental Center at (706) 425-6240 for an appointment in our Dalton office.
Check out what others are saying about our dental services on Yelp: Family Dentist in Dalton, GA.
---
Related Posts
July 15, 2020
A family dentistry office can ensure that the teeth of children and adults are as healthy as possible. One of the preventive measures that family dentists often recommend is dental sealants. A dental sealant is …